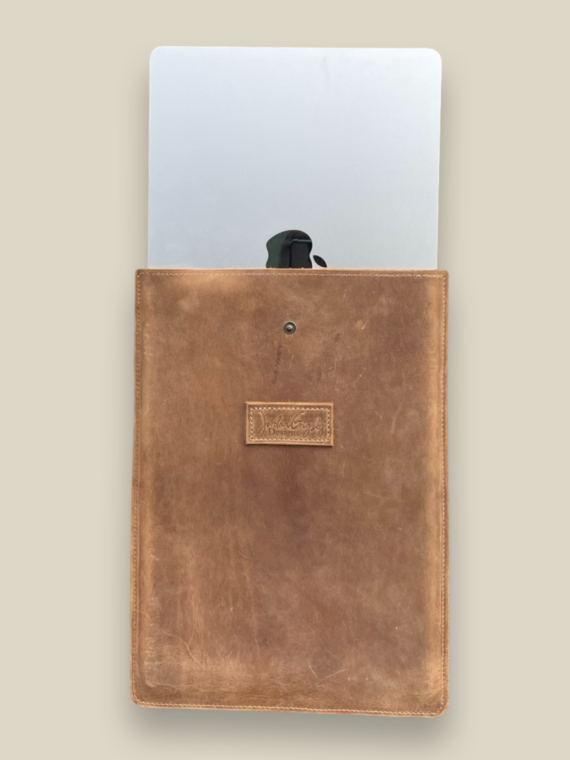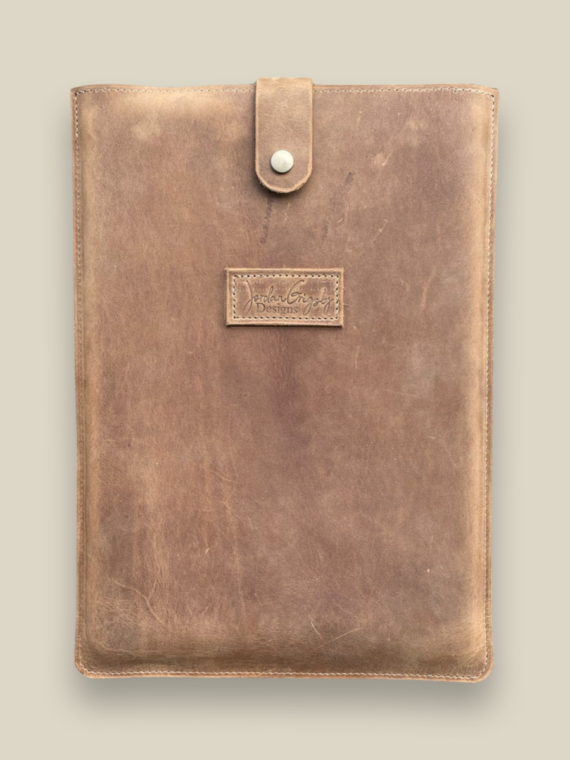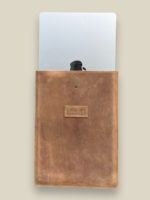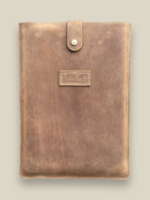 MacBook Air Leather Protective Sleeve
4
people are viewing this right now

Guaranteed safe & secure checkout
Description
Introducing our handmade leather MacBook Air case: a perfect blend of elegance and functionality. Crafted from premium full-grain leather, it offers superior protection, a snug fit, and convenient storage. With precise cutouts and a luxurious feel, it's the ideal companion for your MacBook Air. Elevate your style today.
Shipping and Returns
Shipping cost is based on weight. Just add products to your cart and use the Shipping Calculator to see the shipping price.
We want you to be 100% satisfied with your purchase. Items can be returned or exchanged within 30 days of delivery.
There are no question found.
Quick Comparison
Settings
MacBook Air Leather Protective Sleeve

remove

Small Leather Valet Tray

remove

XL Leather Valet Tray

remove

Leather Note Pad Journal

remove

Leather Apple Air Tag Key Ring

remove

Leather Whiskey Travel Case

remove

Name
MacBook Air Leather Protective Sleeve

remove

Small Leather Valet Tray

remove

XL Leather Valet Tray

remove

Leather Note Pad Journal

remove

Leather Apple Air Tag Key Ring

remove

Leather Whiskey Travel Case

remove

Image
SKU
Rating
Price
Stock
Availability
Add to cart
Description
Content
Introducing our handmade leather MacBook Air case: a perfect blend of elegance and functionality. Crafted from premium full-grain leather, it offers superior protection, a snug fit, and convenient storage. With precise cutouts and a luxurious feel, it's the ideal companion for your MacBook Air. Elevate your style today.
This XL Valet Tray is handcrafted with high quality leather and is perfect for your larger nicknacks.  It measures 12 inches by 12 inches so there is plenty of room for whatevery you would like to keep together. Note: items in valet tray are for scale only and are not included.
Introducing our exquisitely crafted Handmade Leather Apple AirTag Key Ring – the perfect blend of functionality and elegance. Designed with meticulous attention to detail, this accessory is not just a practical tool to keep your belongings safe but also a fashion statement that reflects your impeccable taste. AIR TAG  NOT INCLUDED Product Features:

Premium Quality Leather: Each key ring is meticulously handcrafted from high-quality, fullgrain leather, ensuring durability and a luxurious feel that only improves with age. The rich, supple texture is a testament to the craftsmanship that goes into creating this timeless piece.
Secure Fit for Apple AirTag: Designed specifically for the Apple AirTag, our key ring offers a secure and snug fit to keep your valuable belongings – be it keys, bags, or any other personal item – well-protected and always within reach.
Sleek and Minimalist Design: Our key ring is thoughtfully designed to be sleek and minimalist, adding a touch of sophistication to your everyday carry. The slim profile ensures it easily slips into your pocket or bag without adding any unnecessary bulk.
Versatile Attachment: The key ring features a sturdy surgical steel loop that allows you to attach it to your keys, bags, luggage, or even wear it as a stylish accessory on your belt loop.

Why Choose Our Handmade Leather Apple AirTag Key Ring? Our commitment to providing a product of exceptional quality and style sets us apart. We believe in preserving the time-honored art of handcrafting leather, ensuring that each key ring is a unique masterpiece that you'll cherish for years to come. Whether you're treating yourself or gifting it to someone special, this key ring is a true symbol of elegance and functionality. Embrace the beauty of genuine leather and the convenience of the latest technology with our Handmade Leather Apple AirTag Key Ring. Elevate your daily essentials and never worry about misplacing your valuables again. Order now and experience the perfect blend of craftsmanship and modernity.
Introducing the epitome of sophistication and convenience – our Handmade Leather Whiskey Travel Case, designed to elevate your whisky-tasting experience wherever your adventures take you. Meticulously crafted by skilled artisans, this exquisite travel companion embodies luxury and practicality in every detail. Impeccable Craftsmanship: Each whiskey travel case is a testament to expert craftsmanship, meticulously handcrafted from premium full-grain leather that ages gracefully with time, acquiring a rich patina unique to your journeys. The attention to detail is evident in every stitch, ensuring durability and a timeless aesthetic that perfectly complements your refined taste. Tailored for Exploration: Whether you're embarking on a weekend getaway, a business trip, or a leisurely escape, our travel case is your steadfast companion. It snugly cradles three sleek 2oz bottles of your favorite whiskey or bourbon, ensuring your choice spirits arrive intact and in impeccable condition. The padded interior provides a cushioning embrace, safeguarding against jostling and temperature changes. Compact Elegance: Designed with sleek and compact dimensions, our leather travel case effortlessly fits into your travel bag, carry-on, or briefcase. Its compact form doesn't compromise on capacity, allowing you to curate a trio of whiskies that tantalize your palate, wherever your journey takes you. The secure brass buckle closure guarantees your prized elixirs remain securely tucked away. Personalized Touch: Make your whiskey travel case truly your own by selecting from a range of leather hues that resonate with your style – from classic browns that exude timeless charm to contemporary blacks that make a bold statement. With an optional personalized monogram, you can elevate this accessory to a cherished heirloom, bearing your initials with pride. Unforgettable Gifting: Presenting an unparalleled gifting option for the whisky connoisseur in your life. Our Handmade Leather Whiskey Travel Case is more than an accessory; it's a symbol of thoughtful luxury, a tangible embodiment of shared moments and exquisite tastes. Whether it's a milestone celebration, a corporate gesture, or a token of appreciation, this travel case is a gift that will be cherished for years to come. Embark on a journey of refined taste and timeless style with our Handmade Leather Whiskey Travel Case. Elevate your whisky-tasting escapades and relish the moments of indulgence, all wrapped in the embrace of artisanal elegance. Discover the perfect union of luxury and practicality, designed exclusively for those who appreciate the finer things in life
Weight
5 oz
5 oz
N/A
11 oz
N/A
N/A
Dimensions
12.5 × 9.5 × .5 in
6 × 6 × 1 in
12 × 12 × 1 in
N/A
N/A
N/A
Additional information

| | |
| --- | --- |
| Weight | 5 oz |
| Dimensions | 12.5 × 9.5 × .5 in |
| Color | Rustic Saddle |

| | |
| --- | --- |
| Weight | 5 oz |
| Dimensions | 6 × 6 × 1 in |
| Color | Burnt Orange, Red Clay, Walnut Brown |

| | |
| --- | --- |
| Weight | N/A |
| Dimensions | 12 × 12 × 1 in |
| Color | Weathered Brown |

| | |
| --- | --- |
| Weight | 11 oz |
| Dimensions | N/A |
| Color | Deep Tan |

| | |
| --- | --- |
| Weight | N/A |
| Color | Brown, Mocha Brown |

Sold
0
0
0
0
0
0
Shipping
Large Goods
Medium Goods